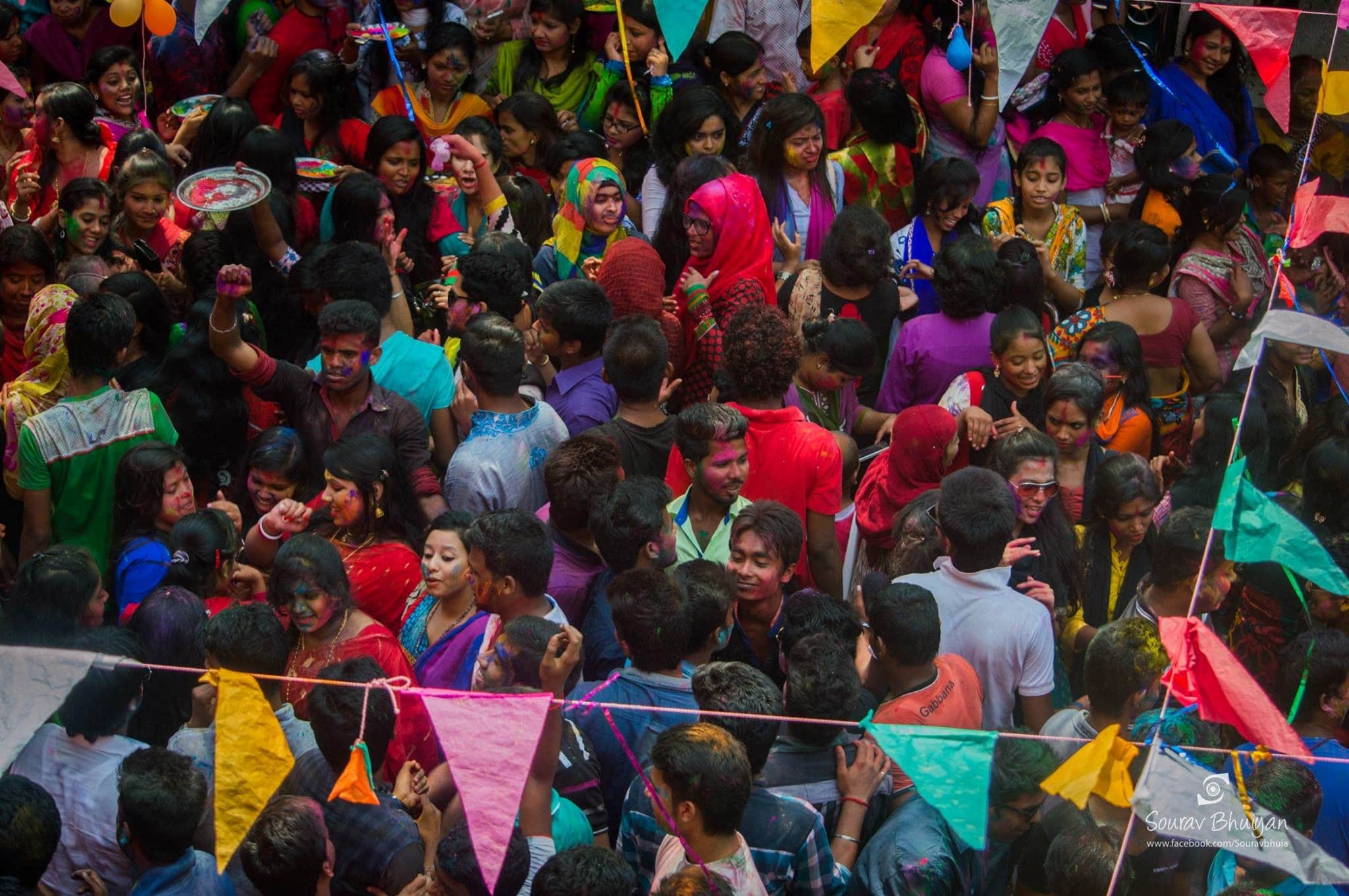 If you don't know, Durga puja is one of the biggest Hindu Bengali festivals. It is celebrated for ten days but the last five days are the most crucial. In my childhood, Durga puja started at least a month before. We had a big north-side window, from where the winter breeze started coming just before Durga puja.
My younger sister used to say, "Look Bordibhai (elder sister), mild winter breeze has started coming which means Durga puja is almost there." We literally had goosebumps by reminding about puja. Me and my little sister impatiently used to wait for our puja shopping. It was a great task to be done before puja. Matching shoes with dresses, hair clips, and a little purse nothing should be missed out. We bought dresses but never showed them to anyone before puja. Besides, the trials of all the dresses and shoes were everyday task.
When I grew up a little maybe in college, me and Mithil started planning what to wear on what day, sari is a must for Ashtami puja in the morning while something gorgeous we chose to wear at Nabami night. However, all the mandaps in our area were nicely decorated with blazing lights and other mind-blowing artifices. It wouldn't be an exaggeration if I say every mandap was a piece of a specimen of artwork.
All of the mandaps had spectacular decorations as well as a theme to provide a message to others and about which we got super excited. During that time all of our discussions revolved around whose neighborhood had the best decoration in the city, which one had the biggest and the most gorgeous idol, and what show or theme was waiting for us.
On the night before Mahalaya, I always asked my mother not to forget to wake me up in the very early morning with them so that I can watch the Mahalaya program. Mom also did the same but I never woke up rather laid down on the warmth of the blanket a little bit more and enjoyed the Mahalaya songs. I always miss that morning.
We enjoyed Saptami morning with all our hearts and amazingly we never got out of our energy again in Ashtami, Nabami, and Dashami. We used to visit all of the puja mandaps by crossing the sea of thousands of people. Sometimes we had to wait in a queue for an hour only to have a glimpse of the Devi Pratima. Sometimes my cousin-sister Mithil who was very much like my twin sister went to his uncle's house for puja on Ashtami night. As Mithil stayed with us for two days, we enjoyed every bit of our moments. Sometimes my other cousins used to come to our place from the village to enjoy puja in our city. We impatiently waited for the Kumari puja in 'Ashtami'. When the Thakur uttered the Devi mantra, with every bit of the 'dhak', the whole ambiance I found so spiritual. We offered our 'Pushpanjali' to the goddess Durga and wished for our expected things and the well-being of everyone.
At this point, let me share something funny – one of my friends used to say that Ashtami puja is the time when all the handsome guys and beautiful girls are seen. I guess handsome guys and beautiful girls always exist, the main secret that makes them handsome and beautiful might be their cultural dresses. What do you think?
During the puja days, we had all the mouth-watering vegetarian dishes at our home, for instance, khichuri, vaja-vujhi, luchi, labra, sobji, laddu, and payesh. After pushpanjali, we broke our fasting with fruits prasad and then came back home and pacified our tummy with all the vegetarian dishes. During pandal hopping, we ate different non-veg street food without which the Durga puja outing is incomplete. Dasami puja had a mixed sad-happy feeling.
First of all, the non-veg delicious items like meat, fish, and fries were made that extended our cravings double. On the flip side, puja was going to end that made our hearts broken. I guess everyone from the Bengali community will agree with me that Durga puja is not only a festival it is an emotion, a feeling. We not only celebrate the festival but enjoy the whole time through the Puja. However, at Dashami, we would dance to all our heart's content. I adore those times, I and Nishu used to dance like no one was watching us.
This is how we ended up with our Puja time with the hope of 'আসছে বছর আবার হবে' which means next year we will enjoy it again. The more I am getting ahead to the memory lane, the Puja vibe is somewhere fading out. There are multiple reasons though. Mithil left us forever a few years back. Durga Puja always reminds her. She had full enthusiasm for puja participation and she used to decide everything such as which mandap to go to first, and to which restaurant we would go. I cannot even think about Puja without her.
I feel happy sometimes that I am away from home. At least, I don't need to celebrate Puja without Mithil. I feel disappointed for the absence of my little sister, Mimi. She is quite alone but I hope she is enjoying her time.
By the way, this time I attended Durga puja in Copenhagen, and it made me feel like a home away from home. I met so many people from different parts of India and Bangladesh. I loved the assimilation that the Bengalis created here that they never feel out of their festivals. We offered our Anjali and right after that had the grand feast which was the Puja bhogs (feast) that were making me nostalgic from time to time. The place and the people around me were not the same but the festival and rituals are still the same and that's the beauty of the festival.
I'm dropping some photos from Durga puja in Copenhagen and wish a very happy Durga Puja to those who are away from home.